sponsor: All content tagged as sponsor in NoSQL databases and polyglot persistence
An invitation from myNoSQL's biggest supporters, Aerospike:
---
One of the key problems in distributed computing is balancing the data and load. How does Aerospike avoid hotspots?
Tune into this FREE webinar to hear the answer to this question. Mark the date and time in your calendar:
Date: Wednesday, July 24 
Time: 10am PST/1pm EST/5pm GMT
Presenter: Young Paik, Aerospike Director of Sales Engineering

and then register for the webinar.
Original title and link: Upcoming webinar: Distributing Data the Aerospike Way ( ©myNoSQL)
---
My thanks to 28.io for sponsoring myNoSQL two consecutive weeks to promote their work on a query platform for MongoDB based on the open JSONiq spec.
Document or schema-free or JSON databases have brought up an interesting challenge to API and query designers. Pretty much everyone in the NoSQL space is using their own query language, while many are suggesting going back to SQL—which even if interesting would probably take a lot of work and bring new corner case inconsistencies to SQL. The promise of a common query language for JSON databases sounds interesting and we'll see who gets it. With its current backing, Oracle, EMC, IBM, 28.io, JSONiq is indeed a strong contender.
Original title and link: 28.io and JSONiq ( ©myNoSQL)
---
Words from this week's sponsor, 28.io:
---
28.io is a query platform for MongoDB built on top of the JSONiq open specification which is supported by 28msec, Oracle, EMC, and as of last week, IBM.
JSONiq is a high-level query language that enables NoSQL developers to develop productively and execute complex queries on top of their data stores of choice (e.g. MongoDB, Couchbase). Zorba, the main open source implementation of JSONiq, provides several databases drivers such as Couchbase, Oracle NoSQL, JDBC, and SQLite. It enables developers to execute the same queries across multiple datastores.
But this is not your grandma's SQL. JSONiq supports novel concepts purposely designed for unstructured, deeply nested JSON data. It allows you to execute complex queries powering features such as joins, grouping, transformation, full-text, or updates.
We produced a short screencast that showcases simple yet powerful queries written with JSONiq on top of MongoDB. We hope that you will enjoy it.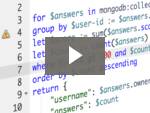 At 28.io, we are providing a deep integration between MongoDB and JSONiq. Our goal is to bring powerful query capabilities that users take for granted in the SQL space to MongoDB without giving up on scalability.
Original title and link: JSONiq Queries on top of MongoDB [sponsor] ( ©myNoSQL)
---
Words from this week's sponsor, FatCloud:
---
FatDB is a full implementation of NoSQL databases for Windows .Net development, extending database functionality by integrating a Map Reduce work queue, file management system, a high speed cache, and application services. Therefore, FatDB is uniquely suited to as a platform to construct applications that are scalable, reliable, responsive to market changes, and cost effective. FatDB enables powerful, scalable applications providing the agility and performance required through:
Reduces complexity. Applications are developed faster.
Increases elasticity. Applications can quickly respond to shifts in demands.
Portability. Applications can move to the cloud and back.
From these operating factors, FatDB is ideally suited for:
Mobile. Great when trying to accommodate unpredictable usage, requiring applications to be elastics to cope with changes in demand.
Financial Services. Financial applications requiring real-time data access with extremely high availability.
E-Commerce. Provides flexible data structures to capitalize on new market opportunities.
Manufacturing. Systems must respond against peak production, providing insight into trends and feedback mechanics.
Simply, FatDB can help you develop NoSQL applications in .Net with less effort and significantly less cost, higher quality and performance, for demanding cloud-based applications. Download a free Developer's edition at FatCloud.
Original title and link: Advantages of developing NoSQL applications on .NET platforms using FatDB [sponsor] ( ©myNoSQL)
---
Words from this week's myNoSQL sponsor, Aerospike. By checking out the weekly sponsor's products or services, you'll not become a better person, but most probably you'll be better informed. And, you'll help support this blog which has been around since almost the beginnings of the NoSQL and Big Data and needs you to continue to live. Thank you.
---
To help you get up and running with Aerospike Community Edition as quickly as possible, we've created a video tutorial that in just a tad over 10 minutes will guide you through the installation and running your first commands.
Download our FREE Database and see how easy it is to install!
Original title and link: Install Aerospike Community Edition in 10 Minutes! [sponsor] ( ©myNoSQL)
---
My thanks to Actian/Pervasive for sponsoring this week of myNoSQL to promote their "pull data from pretty much anywhere and load it into Hadoop", Actian Rushloader tool.
it looks like Actian wants to play an important role in the Big Data market as they have recently announced the acquisition of the Amazon-funded ParAccel whose main tool powers Amazon Redshift data warehouse service.
Original title and link: Actian/Pervasive ( ©myNoSQL)
---
Words from this week's sponsor, Pervasive/Actian:
---
So, you want to pull a buttload (That's a technical term.) of data out of a relational database and slam it into HDFS or HBase for processing. Well, maybe you've got a nice, powerful Hadoop cluster, but that old school database isn't designed for parallel data exports. How do you get the data moved into Hadoop before you're eligible for retirement?
Here's how:
Use the new Actian Rushloader. It's a nice, simple, free tool that allows you to pull data from any database that has a JDBC driver, as well as log files, delimited files, HBase and ARFF files. RushLoader functions on any operating system with a JVM and with any file system, including Amazon S3, UNIX and HDFS.

The nice thing about RushLoader is that on the surface, it's a quick and easy, point and click workflow tool, a cut down version of the KNIME open source data mining platform. Under the covers, it uses the DataRush engine that divides and optimizes workloads at runtime, so it takes full advantage of as much parallel hardware power as you give it, without you having to do any coding work to make it happen.

Configure the data query in the Rushloader database reader like this:

(t = a table name, c = a column name)
 Select * from t where c =?

Set up a parameter query for ? like this: Select distinct c from table
These three steps will give you all the distinct values in the column, and send a separate query for each value to the database. Having each row query separated allows the DataRush engine to automatically spread the work across the available machines and threads, giving you a high speed parallel data pull. There's more info on parameter queries is in the DataRush docs, and the new Actian big data community provides a DataRush toolset discussion forum if you run into trouble.
The free RushLoader includes simple row and column filtering. If you want to get any more sophisticated about the load - add data quality checks, do aggregations, sorting, source joins, lookups, that sort of thing - you have to move up to the commercial version, RushAnalytics. If all you need is a lot of data pulled from an RDBMS and slammed into Hadoop, Rushloader can do the job faster by far than anything else on the market.
Original title and link: 3 Steps for a Fast Relational Database to Hadoop Data Load [Sponsor] ( ©myNoSQL)
---
This week's sponsor doesn't have a specific message. But I do have one for them.
---
The people behind this road events are the fine folks from Trifork. They've been organizing JAOO, nowadays GOTO, for quite a while. They've also been part of the QCon conferences. If you've ever been to any of these events you'll know immediately what I mean. I haven't been yet to a NoSQL roadshow, but besides Berlin, Copenhagen, Zurich and Amsterdam, I've heard they'll pass by San Francisco too. Most probably I'll be there.
While the conference roster changes from event to event, I'm pretty sure you'll get some of the best. Looking at Berlin, I can see Michael Hunger, Chris Molozian and Pavlo Baron.
The next event is in Berlin on April 16th. You need to hurry up for a dose of NoSQL, german cars and beers1.
---
If you know me and you really, really want to go to the event drop me a line and I might be able to do something for you. ↩
Original title and link: NoSQL Search Roadshow [Sponsor] ( ©myNoSQL)
---
For the third time my thanks to Aerospike for sponsoring myNoSQL to promote the homonymous key-value store specialized in performance.
The case studies Aerospike has published during the last couple of months are focusing on scenarios that require speed. If you take a look at their customers, you'll notice quite a few coming from the ad serving business. The scenario for these is: have many precomputed values and then serve them as fast as possible. It's very simplified, but that's basically it.
Original title and link: Aerospike ( ©myNoSQL)
---
---
My thanks again to Aerospike for sponsoring myNoSQL for the 2nd week to promote their super-fast key-value database.
Performance is not a feature in itself. But if you think of it, there are so many scenarios that require a super-fast solution. Think of memcached for a second. Having around a tool whose main goal is to be super-fast is a good thing and Aerospike seems to be the one willing to address this need.
Original title and link: Aerospike ( ©myNoSQL)
---
My thanks to Aerospike for sponsoring the last week to promote their key-value in-memory or Flash optimized database.
Since rebranding to Aerospike, the team there has been talking a lot about speed. Lately they've been publishing a couple of case studies show casing Aerospike's speed. Thumbtack Technology also published the results of YCSB Benchmark comparing Aerospike with Cassandra, Couchbase and MongoDB. All I can say is that the results are in their favor.
Original title and link: Aerospike ( ©myNoSQL)
---