ruby: All content tagged as ruby in NoSQL databases and polyglot persistence
Sounds like ☞ Gremlin with Ruby's syntactic sugar:
Let's get two very fundamental differences out of the way first. First, Pacer uses Ruby as it's language, employing method chaining to define traversal routes while Gremlin defines its own using a combination of xpath-like traversal definitions with its own procedural syntax for other functions. Secondly, Pacer does not have the concept of a current vertex or a current graph; the starting point of any traversal is explicit and there are no special variables like Gremlin's $g and $.
Original title and link: Pacer: Gremlin with Ruby Flavor (NoSQL databases © myNoSQL)
via: http://ofallpossibleworlds.wordpress.com/2010/12/19/introducing-pacer/
---
A not yet released ☞ book: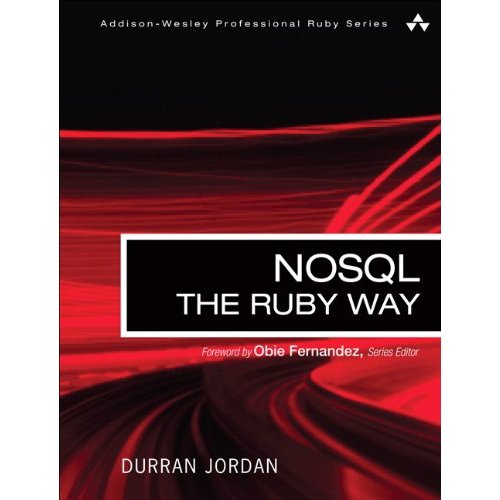 Wondering what would such a book cover. The tons of different APIs for each NoSQL database?
Original title and link: NoSQL The Ruby Way (NoSQL databases © myNoSQL)
---
---
---
List of gems and brief installation notes and examples for using Cassandra, CouchDB, and MongoDB from Ruby on Rails:
In order to do so, we will review the following NoSQL databases: Cassandra, MongoDB and CouchDB. Ruby supports each one of them over corresponding gems. In this blog post we will be using Ruby 1.8.7 with Rails 3.0 under Ubuntu 9.10 OS.
Original title and link: Ruby, Rails, and NoSQL: Cassandra, CouchDB, MongoDB (NoSQL databases © myNoSQL)
---
---
---
---
---
Hongli Lai (FooBarWidget@GitHub) worked on some improvements of the MongoDB Ruby driver:
The Ruby driver was quite inefficient with handling data. Strings (read from the network or passed by the user) were being unpacked into arrays all over the place and vice versa. We've modified the driver to work with strings instead of byte arrays as much as possible. Most notably: ByteBuffer has been rewritten to use a binary string as underlying storage object instead of an array.

The Ruby 1.8 implementation of BSON::OrderedHash was inefficient: it uses a Set even though it's not necessary. We removed the dependency on Set and greatly improved OrderedHash's 1.8 performance.

The end result is a driver that's 274% faster on Ruby 1.8 and 204% faster on Ruby 1.9.
Original title and link for this post: MongoDB Ruby Driver Sees Major Speed Improvements (published on the NoSQL blog: myNoSQL)
---
There have been only a few days since I've written that (maybe) there are already too may mapping tools for document databases. Then, we've heard about Mongomatic: a minimal Ruby mapper for MongoDB. And now it is MongoODM, yet another Ruby mapper for MongoDB that can be found on ☞ GitHub.
Basically, I've tried to create an ODM that uses the native query syntax of the Ruby driver, but that was:

Fully compatible with Rails 3
Use the Mongo ruby driver syntax over a new syntax (for queries, cursors, indexes management…)
Allow lazy loading of collections and queries nesting (concatenation of 'find' calls) to emulate ActiveRecord 3
No association methods (for now): Just declare your own methods on models to fetch associated items
Give support for dirty objects, validations, etc. through ActiveModel 3
Automanage type conversions and default values
Keep it as simple as possible
I made sure to ask the author, Carlos Paramio, why a new mapping tool for MongoDB? and what is it different in MongoODM compared to those other 3 MongoDB mapping libraries?
Carlos Paramio: The main reason for me creating this new ODM is that I felt the Mongo Ruby driver and its syntax (which is pretty similar to the native MongoDB syntax) is much more proper and richer than the syntax similar to the popular ActiveRecord ORM for Ruby — which is particularly designed for relational databases. Even if MongoMapper and MongoId are awesome projects, they both share this particular ActiveRecord-like syntax, which sometimes seems a bit forced and it generates weird bugs and unexpected behavior.

I preferred to use the official syntax and instead of writing tons of new code to bring all the other interesting features that you would expect from an Object Mapper (as an extra to the database driver), I used some stable and widely used Ruby libraries to provide: Validations, type conversions, dirty objects, nesting conditions, Rails 3 compatibility, etc.

There is a similar ODM by Ben Myles, who shares this same opinion about how a MongoDB ODM should work. It's called MongoMatic, and it's really cool. I think we started to code our ODMs at approximately same time, because we both have published stable versions of them recently (I'm particularly using MongoODM for my own project). MongoMatic doesn't support some features like dirty objects, nesting conditions or Rails 3 compatibility yet, but it seems to be interesting to follow.

I think some people was expecting a solution like this. Like Kyle Banker has said (and I quote) recently in response to the MongoODM announcement at the mongodb-user mailing list: "Awesome. I love the trend of moving toward a more native MongoDB query syntax. Great to see the surge in new Ruby ODMs, too."
Now the Ruby world of MongoDB has 4 mapping libraries and it is only the time and users that will decide if all of them are needed.
Original title and link for this post: MongoODM: A new Mongo ODM for Ruby (published on the NoSQL blog: myNoSQL)
---
---