fun: All content tagged as fun in NoSQL databases and polyglot persistence
Your ( ) tweet ( ) blog post ( ) marketing material ( ) online comment advocates a way to beat the CAP theorem. Your idea will not work. Here is why it won't work:
Original title and link: Beating the CAP Theorem Checklist ( ©myNoSQL)
---
The problem is not the tool itself
I didn't know about CommitStrip. Until now.
Original title and link: Dude, missing indexes? Seriously…. ( ©myNoSQL)
---
---
1983 - Bjarne Stroustrup bolts everything he's ever heard of onto C to create C++. The resulting language is so complext that programs must be sent to the future to be compiled by the Skynet artificial intelligence. Build times suffer. Skynet's motives for performing the service remain unclear but spokespeople from future say "there is nothing to be concerned about, baby," in an Austrian accented monotones. There is some specuation that Skynet is nothing more than a pretentious buffer overrun.
Original title and link: Behind our databases - The illustrated history of programming languages ( ©myNoSQL)
via: http://thequickword.wordpress.com/2014/02/16/james-irys-history-of-programming-languages-illustrated-with-pictures-and-large-fonts/
---
Credit Matthew Freeman.
Original title and link: Data science: Introducing the (para)normal distribution ( ©myNoSQL)
---
Geeky:
This guide will show you how to build a thermometer that solves both the problems above. By using an Arduino and Adafruit CC3000 WiFi breakout, you can build a probe thermometer that logs temperature data to Amazon's DynamoDB cloud database service. With the temperature data in the cloud, you can monitor it remotely over the web, and even use the history of measurements to predict when the food will be ready!
You still have the time to order this for XMas.
Original title and link: Build a Cloud Thermometer with Arduino, Adafruit, and DynamoDB ( ©myNoSQL)
---
Considering the number of views on YouTube, I'm probably one of the lasts to discover this video. But I cannot imagine one reader of this blog not loving it though.
Links:
The algorithms are: selection sort, insertion sort, quick sort, merge sort, heap sort, radix sort (LSD), radix sort (MSD), std::sort (intro sort), std::stable_sort (adaptive merge sort), shell sort, bubble sort, cocktail shaker sort, gnome sort, bitonic sort and bogo sort.
Original title and link: The sound of sorting - 15 sorting algorithms visualized and sonified ( ©myNoSQL)
---
---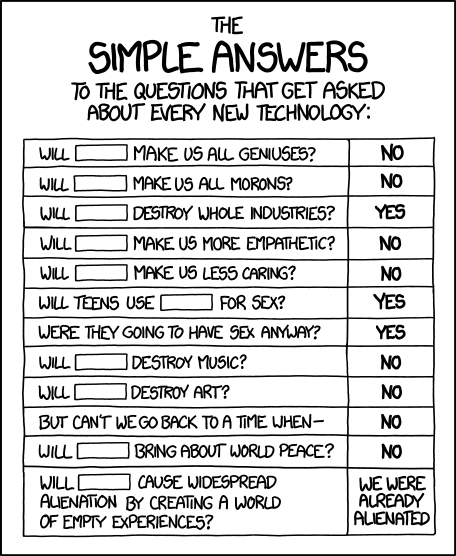 I bet this was used for concluding that NoSQL is less disruptive than we thought and that NoSQL is not the revolutionary technology analysts and VCs expected.
Original title and link: Simple answers… can we apply xkcd's recipe to NoSQL databases? ( ©myNoSQL)
---
---
I know a few people that avoid the Internet completely on April's Fool. After being tricked every year by my dad, I'm very careful with what I'm posting on that day. This year has been easy on me, but that doesn't mean there weren't a couple of good ones.
My favorites:
Original title and link: Best NoSQL April's Fool ( ©myNoSQL)
---
---