Python: All content tagged as Python in NoSQL databases and polyglot persistence
Daniel Gutierrez posted a pretty good summary of the recent discussions about the preferred or most productive or most used data processing environments (R or Python):
While R has traditionally been the programming language of choice for data scientists, some believe it is ceding ground to Python. Here is a short list of some the arguments I've heard of late, along with my personal assessment of each…
The summary of a summary is that this conversation can be reduced to familiarity vs highly specialized algorithms1.
---
While Python can get many of the specialized tools available in R, R has a lot more work to do to become a familiar environment for devs. ↩
Original title and link: Data Science Wars: Python vs. R ( ©myNoSQL)
via: http://inside-bigdata.com/2013/12/09/data-science-wars-python-vs-r/
---
This is a sample code snippet from the Getting started guide for the recently announced Google Cloud Datastore:
def

 

WriteEntity

():


  

req

 

=

 

datastore

.

BlindWriteRequest

()


  

entity

 

=

 

req

.

mutation

.

upsert

.

add

()


  

path

 

=

 

entity

.

key

.

path_element

.

add

()


  

path

.

kind

 

=

 

'Greeting'


  

path

.

name

 

=

 

'foo'


  

message

 

=

 

entity

.

property

.

add

()


  

message

.

name

 

=

 

'message'


  

value

 

=

 

message

.

value

.

add

()


  

value

.

string_value

 

=

 

'to the cloud and beyond!'


  

try

:


    

datastore

.

blind_write

(

req

)


  

except

 

datastore

.

RPCError

 

as

 

e

:


    # 

remember

 

to

 

do

 

something

 

useful

 

with

 

the

 

exception


    

pass



I haven't seen in a while such a terrible API. Makes me wonder what was wrong with the Google AppEngine API; this one is more verbose than even XML.
Original title and link: A sample of Google Cloud Datastore Python API ( ©myNoSQL)
---
---
Chase Seibert:
Most Pig tutorials you will find assume that you are working with data where you know all the column names ahead of time, and that the column names themselves are just labels, versus being composites of labels and data. For example, when working with HBase, it's actually not uncommon for both of those assumptions to be false. Being a columnar database, it's very common to be working to rows that have thousands of columns. Under that circumstance, it's also common for the column names themselves to encode to dimensions, such as date and counter type.
Original title and link: Flatten Entire HBase Column Families With Pig and Python UDFs ( ©myNoSQL)
via: http://chase-seibert.github.com/blog/2013/02/10/pig-hbase-flatten-column-family.html
---
---
Nice data experiment run by Sebastien Goasguen against the CloudStack mailing list:
To get the graphs I grabbed the emails archive from Apache. I used Python to load the mbox files into single Mongo collections. I cleaned the data to avoid replications of senders as well as remove JIRA and Review Board entries. Then with a little bit of PyMongo I made the queries and build the graph with NetworkX. Finished up with the graph visualization and calculations using Gephi. Since there are thousands of emails and threads, there is still some work to pre-process the data, avoid duplicates and match individuals to multiple email addresses.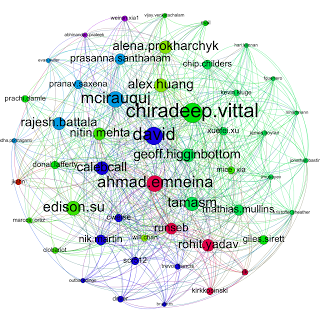 Three questions:
would using a graph database made this experiment easier?
would Linkurious be able to generate these graphics?
is the code available anywhere so someone else could try to use a graph database and maybe run other types of visualizations?
Original title and link: Social Network Analysis of Apache CloudStack ( ©myNoSQL)
via: http://sebgoa.blogspot.ch/2013/01/social-network-analysis-of-apache.html
---
---
---
---
---
David Taylor:
Anyway to cut a long story short my attempt eventually failed because my mathematical naivety hid the fact that a brute force attack would result in far too many hours of computation and a database that was simply too vast. I gave up after running it for three hours and it was showing that it had computed 24 million board states, it still had 18 million un-computed child boards to investigate and had a 23Gig database. I think it is still possible to do this almost completely with brute force if I remove symmetrical board states (apparently if done right there are only 23 million possible board states when symmetry is considered) but that is way beyond just investigating the technology and object orientation.
Peg Solitaire sounds like a good excuse to look into Python and MongoDB.
Original title and link: Peg Solitaire With Python and MongoDB ( ©myNoSQL)
via: http://davidandrewtaylor.blogspot.co.uk/2012/05/python-and-nosql-after-listening-to.html
---
A list of DynamoDB libraries covering quite a few popular languages and frameworks:
A couple of things I've noticed (and that could be helpful to other NoSQL database companies):
Amazon provides official libraries for a couple of major programming languages (Java, .NET, PHP, Ruby)
Amazon is not shy to promote libraries that are not official, but established themselves as good libraries (e.g. Python's Boto)
The list doesn't seem to include anything for C and Objective C (Objective C is the language of iOS and Mac apps)

Original title and link: DynamoDB Libraries, Mappers, and Mock Implementations ( ©myNoSQL)
via: http://aws.typepad.com/aws/2012/04/amazon-dynamodb-libraries-mappers-and-mock-implementations-galore.html
---