NoSQL: All content tagged as NoSQL in NoSQL databases and polyglot persistence
The Register:
Native support for SQL and NoSQL has been added to Citrix Systems' NetScaler, which until now had specialized in high-availability only for applications. […] The change means NetScaler works with Microsoft's SQL Server, MySQL and NoSQL data stores and Yahoo!'s number-crunching platform Hadoop and Google's MapReduce, Citrix said. […] NetScaler sits in front of the web server to mange and balance the traffic. With the addition of SQL and NoSQL, NetScaler will now sit in front of relational and non relational data stores and clusters such as Hadoop and architectures like MapReduce and serve up photos, Tweets, status updates, e-transactions, or enterprise sales reports.
What if you don't believe in magic and ask:
what NoSQL databases are supported?
how can NetScaler be more than a load balancer?
When you read about Twitter's Gizzard — the library for creating distributed datastores — there's no mention of magic.
Original title and link: Citrix sprinkles apps magic on SQL, NoSQL data (NoSQL databases © myNoSQL)
via: http://www.theregister.co.uk/2011/03/29/netscaper_citric_data/
---
From the "Node.js Convincing the boss guide":
If the architecture for your next apps reads like the cookbook of NoSQL ingredients, please pause for a second and read this.

Yes, Redis, CouchDB, MongoDB, Riak, Casandra, etc. all look really tempting, but so did that red apple Eve couldn't resist. If you're already taking a technological risk with using node.js, you shouldn't multiply it with more technology you probably don't fully understand yet.

Sure, there are legitimate use cases for choosing a document oriented database. But if you are trying to build a business on top of your software, sticking to conservative database technology (like postgres or mysql) might just outweigh the benefits of satisfying your inner nerd and impressing your friends.
The opposite sounds valid too:
There are legitimate use cases for choosing an evented I/O system running JavaScript. But if you are trying to build a business on top of your software, sticking to conservative servers (like Apache, nginx) and multi-processes/multi-threaded models might just outweigh the benefits of satisfying your inner nerd and impressing your friends.
Original title and link: NoSQL + Node.js + Buzzword Bullshit (NoSQL databases © myNoSQL)
---
Today Netflix can be seen as a leader in what can be achieved by combining cloud computing and polyglot persistence. Not only that, but Netflix has chosen to share their experience with everyone else so we can all learn from their experience.
Netflix's experience of migrating from an on-premise architecture using relational databases has been documented over time. Here are a couple of important points in the history of migrating from the classical architecture to the mostly in the cloud solution they are currently using and continuing to experiment and build:
And it doesn't stop here. In the video below, Siddharth "Sid" Anand covers the answers to some questions that are in the mind of everyone considering NoSQL databases in the cloud:
What sort of data can you move to NoSQL?
Which NoSQL technologies are we working with?
How did we translate RDBMS concepts to NoSQL?
Original title and link: NoSQL & Cloud at Netflix (NoSQL databases © myNoSQL)
via: http://techblog.netflix.com/2011/03/nosql-netflix-talk-part-1.html
---
Three presentations covering the various NoSQL usages at Twitter:
Kevin Weil talking about data analysis using Scribe for logging, base analysis with Pig/Hadoop, and specialized data analysis with HBase, Cassandra, and FlockDB on InfoQ

Ryan King's presentation from last year's QCon SF NoSQL track on Gizzard, Cassandra, Hadoop, and Redis on InfoQ

Dmitriy Ryaboy on Hadoop from Devoxx 2010:
By looking at the powered by NoSQL page and my records, Twitter seems to be the largest adopter of NoSQL solutions. Here is an updated version of who is using Cassandra and HBase
Twitter: Cassandra, HBase, Hadoop, Scribe, FlockDB, Redis
Facebook: Cassandra, HBase, Hadoop, Scribe, Hive
Netflix: Amazon SimpleDB, Cassandra
Digg: Cassandra
SimpleGeo: Cassandra
StumbleUpon: HBase, OpenTSDB
Yahoo!: Hadoop, HBase, PNUTS
Rackspace: Cassandra
And probably many more missing from the list. But that could change if you leave a comment.
Original title and link: Hadoop and NoSQL Databases at Twitter (NoSQL databases © myNoSQL)
---
A not yet released ☞ book: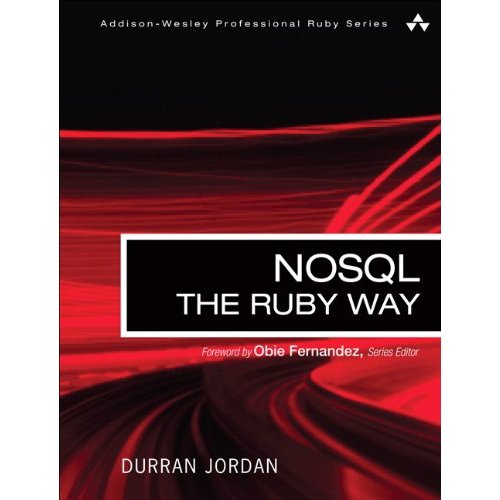 Wondering what would such a book cover. The tons of different APIs for each NoSQL database?
Original title and link: NoSQL The Ruby Way (NoSQL databases © myNoSQL)
---
A panel discussion on NoSQL, NoSQL databases, and relational databases, featuring Salvatore Sanfilippo[1], Lenz Grimmer[2], Filipe David Borba Manana[3], and a forth person from SAPO whose name I couldn't spell:
---
Salvatore Sanfilippo: creator and main developer of Redis  (↩)
Lenz Grimmer: MySQL community relations team  (↩)
Filipe David Borba Manana: CouchDB committer  (↩)
Original title and link: To SQL or not to SQL Panel at CODEBITS IV (NoSQL databases © myNoSQL)
---
Featuring Jacob Burch, Alex Gaynor, Eric Florenzano, Jacob Kaplan-Moss, Michael Richardson, Noah Silas[1]:
You probably know already that Django and NoSQL is hot!
---
Unfortunately it looks like the real people on the panel aren't the same with the ones listed.  (↩)
Original title and link: NoSQL and Django Panel Video (NoSQL databases © myNoSQL)
---
Story and script by Latha Annur Subramaniam:
In case you have a hard time reading it:
RDBMS (SQL) was worried when the news about a new technology called NoSQL
SQL: Oh, he is this new NoSQL guy. People say he is here to beat me out. Hmm. I just hate him!
NoSQL: Howdy, senior SQL. How are you?
SQL: um… uh… oh Hi young man. Looks like you are new to this place?
NoSQL: Oh yeah! Just out of the 'Latest computing trends' school.
SQL: He is just a fresher. But I am his great grand senior. He can never take me down.
SQL: Hey, your name NoSQL sounds strange. Sounds like you are an anti-SQL guy.
NoSQL: Hm… true. I fell so unfortunate of my name. But I am never al alternate to you. In short, I am a new solution for the fresh new problems of this computing era… the "WEBSCALE" era.
SQL: (Hey he sounds modest. Am kinda like this guy) Oh. Am hearing this term for the first time. What is this W-E-B SCALE thing all about?
NoSQL: Interestingly, these days humans lead a much active social life on the WEB only.
NoSQLL Just like in their real life, people always need more and more of everything. Tweet, Search, Maps, Blog… their needs never end ;-)
SQL: Hmmm. Now I get it. I've been the darling for the enterprises for their data storage needs. But maybe they will abandom me and choose you, when they need more scale?!?!
NoSQL: Partially true. I can help them in scaling massively. But you are still the best in a lot of things.
NoSQL: For example, you are the Superstar when it comes to 'transaction based apps'. I can never beat you in your ACID qualities
NoSQL: Also, I am still not the best for 'Reporting' requirements. While my 'schemaless' quality helps dynamically add different types of data, it causes the drawback of not being helpful for reporting.
SQL: I fell you are the right fit for the modern social apps.
NoSQL: You are the right bet for the critical business apps… soon until I catch up with you
SQL: HaHaHa
SQL: Yup. I wish you good luck, young man.
NoSQL: Thank you, senior. Btw, my name doesn't mean a NO to SQL!!! It is only that I am NOT only SQL :-)
SQL: and so I dedicate this song to you buddy:
Twinkle, twinkle NoSQL
Was wondering who you are
Out into this computing world,
I wish you success all around!!!
Definitely not as good as MongoDB is web scale.
Original title and link: SQL vs NoSQL: Twinkle, Twinkle, NoSQL! (NoSQL databases © myNoSQL)
---
Something to think about it:
if you are using some caching in your application, would you call that the persistence layer?
if you are using a distributed cache, would you call that your persistence layer?
if you are using a replicated and distributed cache, would you call that your persistence?
if your replicated and distributed cache does some sort of snapshotting to disk, would you call that your persistence?
Some are saying ☞ RAM is the new disk, so I'm wondering what their answers to the above questions are.
Original title and link: Questions about Caching and Persistence (NoSQL databases © myNoSQL)
---
---
Kenn Ejima ☞ posted his thoughts about NoSQL, scalability and O(N) as a preamble to some details about Redis persistence, concluding:
For people who don't really grok what's been said in this post (maybe because it was just too long to read), my recommended setup is: "Use Redis for small datasets that don't grow fast (stay far less than 1GB). Have at least 2x memory than the dataset. Use default snapshotting and disable AOF."
Considering this time I was one of those that didn't really follow the first part of the article, filing it under "not sure what all these have to do with Redis persistence implementation", I've found Jeff Darcy's ☞ follow up adding a bit more context(!) to the discussion:
I'd rephrase above as "Use Redis for small datasets (less than 50GB this year) that don't need to be highly available, have memory at least 2x your actual dataset (until the snapshot implementation improves), use frequent snapshotting or AOF (depending on your need for performance vs. durability – not both) and always avoid overcommit." I also have nothing against Redis, it's a fine tool for what it does, but I think its durability story is a bit confused and its reinvented VM can only serve a need that it's not good for anyway. As always, the real answer is to use multiple data stores to serve multiple needs, with careful consideration of the tradeoffs each represents.
Original title and link: Redis: Thoughts and Counter-Thoughts (NoSQL databases © myNoSQL)
---
We've covered Django and NoSQL extensively over here and now the news it that "official" NoSQL support might get into Django trunk:
Waldemar Kornewald: in my last discussion on django-users Russell told me that he'd like to see four proof-of-concept (or better) backends before considering NoSQL for inclusion in trunk. The primary point was that enough eyeballs have looked at the API, first. Now we finally have four backends for Django-nonrel:

App Engine (used in production), developed by Thomas Wanschik and me
MongoDB (used in production), developed by Flavio Percoco Premoli, Alberto Paro, George Karpenkov, and me
Cassandra (alpha/experimental), developed by Rob Vaterlaus with very minor hints from me
ElasticSearch (alpha/experimental), developed by Alberto Paro
Neo4j integration with Django seems to be missing from the list.
Original title and link: Django Getting NoSQL Support in Trunk? (NoSQL databases © myNoSQL)
via: http://groups.google.com/group/django-developers/browse_thread/thread/9208f63b2fb14acc
---