NoSQL market: All content tagged as NoSQL market in NoSQL databases and polyglot persistence
What is distinctive about an enterprise-class NoSQL database is its support for additional enterprise-scale application requirements, namely: ACID (atomic, consistent, isolated, and durable) transactions, government-grade security and elasticity, as well as automatic failover.
What is distinctive about an enterprise-class NoSQL database is what my company is selling.
If that would be true, I doubt we would have no any other databases around considering MarkLogic' age and perfect fit.
Snarky comments aside, the enterprise requirements are so complicated, numerous, political and sometime non-technical, that I don't think anyone would ever be able to come up with a definition or (even if extremely long) checklist of what's enterprise-grade.
Original title and link: Enterprise-class NoSQL ( ©myNoSQL)
via: http://www.information-age.com/technology/information-management/123458126/putting-enterprise-nosql-acid-ambiguity-out
---
Joe Masters Emison for InformationWeek:
Today's database landscape isn't just static. It's positively retro. Remember 2004? Facebook had just launched, the iPad wasn't even a twinkle in Steve Jobs' eye, and Gartner's database market share report put IBM (34.1%), Oracle (33.7%), and Microsoft (20%) in the top spots. In our survey, Microsoft, Oracle, and IBM still hold the top spots; we do add MySQL, but that's about it for innovation. […]

And those relational databases from Microsoft, Oracle, and IBM? They're essentially just updated versions of the companies' 2004 offerings.
You'll see these numbers in many surveys. But there are a couple of things to keep in mind while reading them:
the enterprise world is well-known to be a late adopter. A very late adopter actually.
many of these databases are subscription based so customers are locked-in on at least an yearly basis
many of these databases have been acquired together with hardware and consultancy/support. Another type of lock-in.
none of these databases is showing the growth in demand, jobs, and revenue that the top NoSQL databases are seeing for the last 12-18 months.
When you already bought a house, it's quite difficult to go out looking for a new one. But there's no good reason for you not to look and get the best appliances and furniture for your house.
Original title and link: 2014 State Of Database Tech: Think Retro ( ©myNoSQL)
---
Nick Heudecker (Gartner):
The results were largely what I expected, except for the respondent profile. Database administrators (DBAs) appear to be significantly underrepresented in the NoSQL space, representing only 5.5% of respondents
Question here is why is this happening? Keeping in mind the survey's audience is "NoSQL adopters", I'm wondering what combination of the following explains the results:
DBAs see no value in NoSQL
DBAs see no job security
DBAs see a drop in their revenue with NoSQL
DBAs are misinformed
DBAs are change resistant (putting them in the later phases of adoption)
I'd go with a combination of 5 (explained mostly by 3) and 4.
Original title and link: NoSQL Shouldn't Mean NoDBA ( ©myNoSQL)
via: http://blogs.gartner.com/nick-heudecker/nosql-shouldnt-mean-nodba/
---
In a post with an inspired titled, "We are the Borg! You will be assimilated. Resistance is futile.", Dan Graham of Teradata exposes how the database evolution and market looks from their perspective:
In the Star Trek movies, "the Borg" refers to an alien race that conquers all planets, absorbing the people, technology, and resources into the Borg collective. Even Captain Picard becomes a Borg and chants "We are the Borg. You will be assimilated. Resistance is futile."

It strikes me that the relational database has behaved similarly since its birth. Over the last thirty years, Teradata and other RDBMS vendors have innovated and modernized, constantly revitalizing what it means to be an RDBMS. But some innovations come from start-up companies that are later assimilated into the RDBMS. And some innovations are reactions to competition. Regardless, many innovations eventually end up in the code base of multiple RDBMS vendor products —with proper respect to patents of course
That's true. But let's look at the spectrum of options. On one side, you have old products engulfing new features now and then, depending on the market needs and trends. What you get some mammoths that are trying to do everything. Try is the keyword here. It's one thing to list a feature on a checklist, another to have it working on the lab, another to have it working for a wide range of use case, yet another to work well, and last, but not least, to have it scale and adapt with the needs of your users. What're your options if you need to scale a part of your system only? What if you the checklisted feature is not solving your problem?
At the other end of the spectrum, you have younger, specialized solutions that most of the time focus on solving specific problems. Indeed, you have to deal with the added complexity of managing heterogeneous systems. And yes, you have to deal with making them work together to solve your problem. But if something doesn't fit your needs or you need to adapt fast or you need to scale a part of your application, then you can really do it.
What would you choose?
Original title and link: The evolution of databases - Teradata's take ( ©myNoSQL)
---
After yesterday's announcement of RethinkDB raising $8mil in series A, I've read comments about this round being considered small. I've looked through my archives and here's what I've found:
Jul.2008: 10gen: $1.5M (series A)
Dec.2008 and Dec.2010: Cloudant: $2M (series A)
Jan.2009, Couchbase: $6M (series A)
Apr.2009, Basho: $2M (series C)
Nov.2009: CouchOne: $2M
Oct. 2010: DataStax: $2.7M (series A)
Sep.2011: Neo Technologies: $10.6M (series A)
Maybe in the light of FoundationDB's recent $17M, RethinkDB's round might look small. But data doesn't agree.
Update:added Cloudant.
Original title and link: Size of A-series funding in the NoSQL market ( ©myNoSQL)
---
Klint Finley about DB-Engines, whose article NoSQL systems continue to be on the rise I've linked to earlier today:
Just how quickly? A website called DB-Engines is trying to find out. According to the site's online research, relational databases still dominate, accounting for 88.9 percent of the database mentions across the web. But there has been strong growth for non-relational databases over the past year. MongoDB was the top NoSQL database in December's rankings, followed by Cassandra, Redis, Memcached, and HBase. And at the same time, Oracle and Microsoft's relational databases have dropped in the rankings.
Original title and link: New Site Tracks the Cracks in Oracle's Empire ( ©myNoSQL)
---
Matthias Gelbmann for DB-Engines, the publishers of the DB-Engines Ranking:
The trend towards NoSQL systems is most clearly visible in our ranking category report, where the RDBMS category still dominates, but compared to the beginning of the year the dominance is a bit weaker. At the same time, NoSQL systems increased their popularity by 50% or more.
It is a buzz-based ranking, but there's no smoke without fire.
Original title and link: NoSQL systems continue to be on the rise ( ©myNoSQL)
---
For $2ooo, you can get TechNavio's 40 page report about the NoSQL market:
TechNavio's analysts forecast the Global NoSQL market to grow at a CAGR of 29.14% over the period 2012-2016.

The key vendors dominating this market space are 10gen Inc., Couchbase Inc., DataStax Inc., and Basho Technologies Inc.
That's all you need to know.
✚ Actually, it might be useful to know that 10gen Inc. has changed its name to MongoDB Inc.
Original title and link: TechNavio's report: Global NoSQL market 2012-2016 ( ©myNoSQL)
---
---
David Rosenthal, founder of FoundationDB:
I am pleased to announce today that FoundationDB has raised $17 million

What does this funding mean for you? Most important, it means that we'll be hiring more people to serve you better and continue to push the product and community forward. It means more layers, more languages, more performance, more support, more tutorials, more meetups, and more FoundationDB. While we're excited to be participating and competing in the fast-growing NoSQL market, this year we're also going to show you that FoundationDB is not just another NoSQL database. Our transactional guarantees fundamentally put us ahead of the pack and allow us to deliver multiple data models side-by-side as layers. Expect some amazing new capabilities, starting with the upcoming release of our open- source ANSI SQL layer.
$17mil on the ACID transaction corner. Congrats guys!
✚ I see a trend here: every time a database company mentions my name, it raises money: one week after I joined DataStax they raised $45mil and now one week after Nick Lavezzo posted a Response to Alex Popescu on "The demise of eventual consistency" they've raised $17mil.
Original title and link: FoundationDB raises $17mil ( ©myNoSQL)
via: https://foundationdb.com/blog/foundationdb-raises-17-million-series-a
---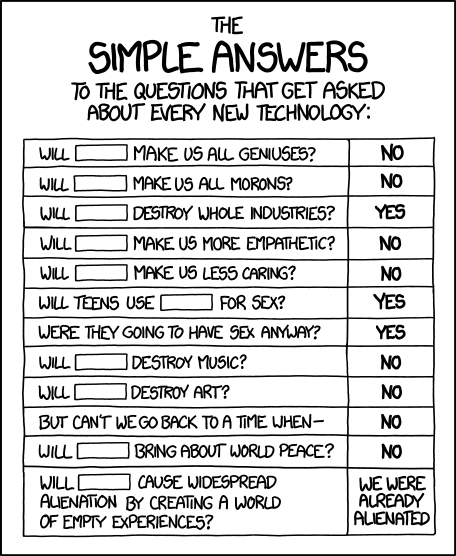 I bet this was used for concluding that NoSQL is less disruptive than we thought and that NoSQL is not the revolutionary technology analysts and VCs expected.
Original title and link: Simple answers… can we apply xkcd's recipe to NoSQL databases? ( ©myNoSQL)
---
---