Dell: All content tagged as Dell in NoSQL databases and polyglot persistence
I don't hear much about RainStor, the company that announced at the beginning of the year a solution promising impressive data compression rates, but it looks like they are signing some interesting partnerships. First it was with HP to include RainStor Database technology in HP Investigation Solution and now it's Dell to include RainStor in Dell's Big Data Retention solution.
A couple of words about RainStor:
a massively parallel processing system
shared everything architecture
can be deployed on a standard RAID or HDFS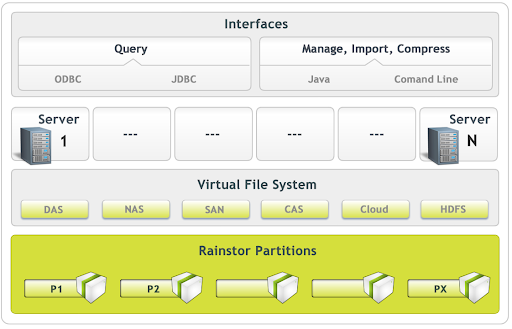 Original title and link: Dell Big Data Retention Solution Includes RainStor ( ©myNoSQL)
---
Just a quick recap:
Amazon doesn't partner with anyone for their Amazon Elastic Map Reduce. And IBM is walking alone with the software-only InfoSphere BigInsights.
Original title and link: Partnerships in the Hadoop Market ( ©myNoSQL)
---
---