PostgreSQL 9.4 will replace the default JSON column type with Hstore.

From InfoQ:

PostgreSQL 9.4 will be reintroducing Hstore as the column type of choice for document-style data. This supersedes PostgreSQL's JSON support which was introduced in version 9.0. Being a string-based representation, JSON is significantly slower than the binary structure of HStore. And with the addition of Boolean and integer support, the new Hstore is semantically equivalent to JSON. In practical terms this allows two-way conversions between the formats using just a casting operator.

Amazon RDS adds (beta) support for PostgreSQL.. Pretty much everything is supported, including PostGIS.
Original title and link: Two more things about PostgreSQL ( ©myNoSQL)
---
---
---
New features available on Heroku's hosted PostgreSQL
Heroku Postgres rollback allows you to "roll back" the state of your database to a previous point in time, just as heroku releases:rollback allows you to roll back to an older deployment of your application. Rollback does not affect your primary database, but instead follows the same pattern as fork: it provisions a new database that is not directly connected to the primary in any way. Like a fork, a rollback will take some time to become available.
I'd really love to know how this is done1.
---
I have some vague ideas, but it's better to learn than to speculate. ↩
Original title and link: Heroku Postgres Rollback ( ©myNoSQL)
via: https://devcenter.heroku.com/articles/heroku-postgres-rollback
---
David Rosenthal, founder of FoundationDB:
I am pleased to announce today that FoundationDB has raised $17 million

What does this funding mean for you? Most important, it means that we'll be hiring more people to serve you better and continue to push the product and community forward. It means more layers, more languages, more performance, more support, more tutorials, more meetups, and more FoundationDB. While we're excited to be participating and competing in the fast-growing NoSQL market, this year we're also going to show you that FoundationDB is not just another NoSQL database. Our transactional guarantees fundamentally put us ahead of the pack and allow us to deliver multiple data models side-by-side as layers. Expect some amazing new capabilities, starting with the upcoming release of our open- source ANSI SQL layer.
$17mil on the ACID transaction corner. Congrats guys!
✚ I see a trend here: every time a database company mentions my name, it raises money: one week after I joined DataStax they raised $45mil and now one week after Nick Lavezzo posted a Response to Alex Popescu on "The demise of eventual consistency" they've raised $17mil.
Original title and link: FoundationDB raises $17mil ( ©myNoSQL)
via: https://foundationdb.com/blog/foundationdb-raises-17-million-series-a
---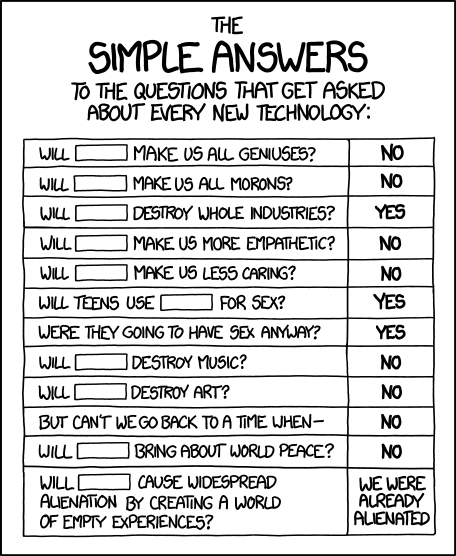 I bet this was used for concluding that NoSQL is less disruptive than we thought and that NoSQL is not the revolutionary technology analysts and VCs expected.
Original title and link: Simple answers… can we apply xkcd's recipe to NoSQL databases? ( ©myNoSQL)
---
---
---
---
Just in case you ever needed an infographic for the 4 V's of big data, IBM has one for you.
Original title and link: The Four V's - Volume, Velocity, Variety, Veracity Infographic ( ©myNoSQL)
---
That's how you do it!
One of the most detailed descriptions of migrating data while keeping your service availability:
The solution we came up with was to split the migration into two parts: writing, then reading.

For each component that we were migrating, we would come up with a data schema that made sense for that part of the system. We would then make a branch off of master, the 'writes' branch. The writes branch was responsible for 2 things. First, it would mirror all writes to Mongo/Titan into it's eqivalent Cassandra table. […] Next, it would have a migration script that would copy all of our historical data for that component into Cassandra. So once the writes branch was deployed, and the migration script was run, all of our data was in both Mongo/Titan and Cassandra, and anything that was created or updated was also written to both places.

Next, we would make a branch off of our writes branch, this was our 'reads' branch. The reads branch switches all reads from Mongo/Titan to our new Cassandra table(s), removed all references to Mongo/Titan for the migrated component, and stops all writes for them. In practice, this is the most complex branch to write because of minor variations in the way things come back from the different databases.
There's also a "keep-in-mind" list. To which I'd add:
if your application doesn't use some sort of data access layer, you'll have a hard time completing this migration. It won't be because you cannot identify the data access points, but because each of these would have their own expectations and way of dealing with exceptional cases;
the more different the data models of your source and target databases are, the more difficult the migration will be; if it's possible once you have the write path covered enabled the read paths one by one;
do NOT disable the double write path for a while; there might be subtle but serious bugs that you haven't discovered or performance issues that you haven't or couldn't predict. There also might be external processes/mini-apps that are rarely used and that you've totally forgotten about.
Original title and link: Migrating Databases With Zero Downtime ( ©myNoSQL)
via: http://planetcassandra.org/blog/post/migrating-databases-with-zero--downtime
---
---